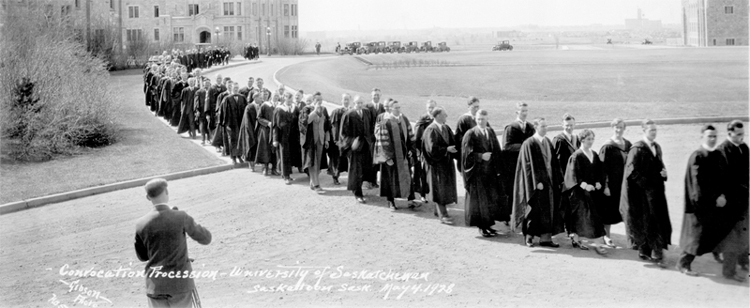 Welcome to the University of Saskatchewan
Hood and Gown Registration Home Page
---
Website Opening Date: April 5, 2017 at 9:00 am – June 1, 2017 4:30 pm (CST).
Confirmation Details
Please have your credit card, student number, and ceremony time on hand before beginning your registration.
You will receive two emails once your rental registration is complete. Please only register once, if you would like to make changes please call or email us. Details below.
1. The first will be from Gaspard this contains payment information. If you have used a credit card other than your own, it will show on this confirmation. The academic dress will be onsite in your name.
2. The second will be from Build A Grad. This confirmation contains all the necessary details regarding your rental, pick up, drop off, order number and amount paid if applicable, cancellation and refund information.
Please print these forms or bring them on your mobile device.
Regalia Prices
Certificate:
Online: $30.00
Onsite: $30.00
Bachelor and Master:
Online: $35.00
Onsite: $50.00
Doctoral:
Online: $52.50
Onsite: $75.00
Please Note!
The Bachelor of Arts & Science (B.A. & Sc) degrees are distinct degree combining the Science disciplines with studies in the Humanities, Social Sciences, and/or Fine Arts. These unique and highly completive interdisciplinary programs are focused in areas of high demand and allow students to make connections needed to succeed in these areas. These programs are truly inter- and multi-disciplinary. They are listed as Combined degrees.
Pick-up Time and Location
Drop-off Time and Location
All gowns must be returned to TCU Place following your ceremony, but prior to 5:30pm Thursday, June 8, 2017.
Cancellations
All cancellations for refund must be received before May 23, 2017 at 4:30pm (CST). Refunds will not be accepted after this date.
Contact Us
Regalia services for
University of Saskatchewan
are provided by
Gaspard
.
If there are any question or concerns, please call us at 1-866-949-5703 Monday to Friday 8:30 a.m. to 4:30 p.m. (CST) or email us at
alphaomega@gaspard.ca
.
To better serve you, please include your name, institution name, order number and/or student number in your email. If leaving a phone message please include all of the information and speak slowly as we need to write this information and want to return your call.
Thank you!
Continue