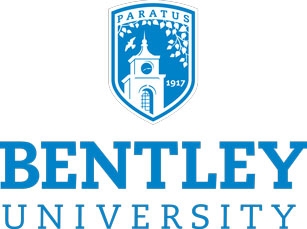 Welcome to the Student Regalia Registration Home Page for Bentley University
Registration Deadline: April 30, 2017 @ 11:59 p.m. (EST)

Please have your Student Id Number available when registering for your regalia.
COMMENCEMENT DETAILS
Please join us to celebrate our graduating class during our graduation ceremony on May 20, 2017.
Undergraduate Ceremony
10:00 a.m. to 1:00 p.m.
Graduate Ceremony
3:00 p.m. to 5:00 p.m.
See more at: http://www.bentley.edu/events/commencement#.dpuf
REGALIA IMAGES AND DETAILS
NOTE: Images are used for product representation only. Actual product will vary in adherence to academic code specifications.
Please Note Regalia Colors:
*Bachelor of Arts candidates should wear a white hood and tassel.
*Bachelor of Science in Business candidates wear a drab (beige) hood and tassel.
*Bachelor of Science in Mathematical Sciences candidates wear a golden yellow hood and tassel.
*Master Degree candidates wear a drab (beige) hood and tassel.
*Doctoral Degree candidates wear custom authentic Bentley University doctoral regalia.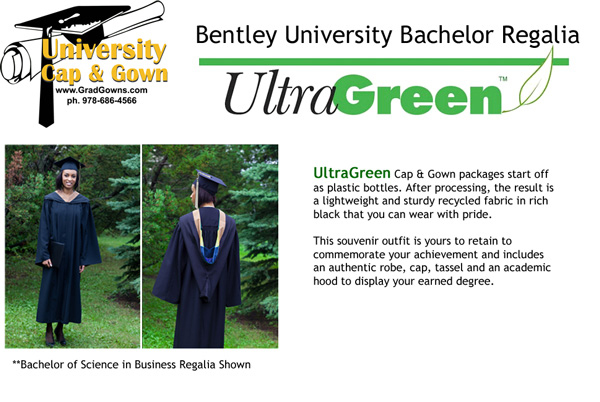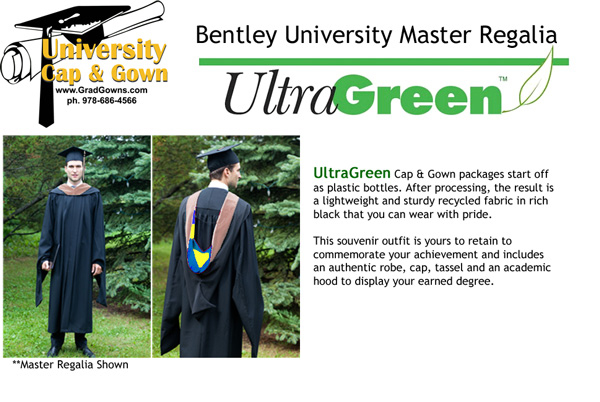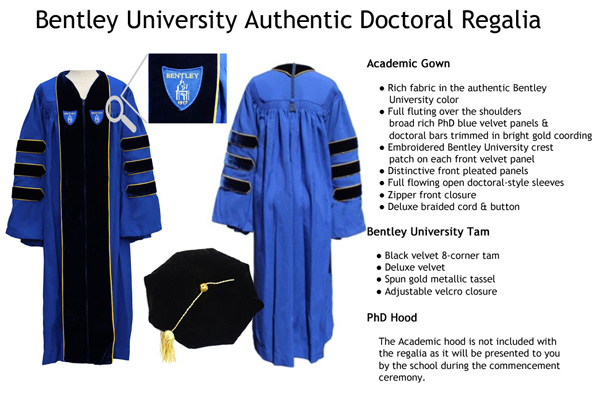 HOW TO WEAR YOUR CAP & GOWN
ORDERING DETAILS
Foreign Credit Card Transactions
Effective May 6, 2016, a 5% fee will be added to all foreign credit card transactions.
To complete your payment, please call 800-585-5500.
Prices
*All prices are in USD.
Bachelor:
$50.00
Master:
$55.00
Home Shipping:
$14.50
Email Order Confirmation
You will receive 2 emails once your regalia registration is complete.
1. The first email will be from Build a Grad. This email order confirmation contains all the necessary details regarding your regalia order. Your Order Number will be on this order confirmation.
2. The second email will be from UCG Sales Department. This contains payment information.
Please print these forms or bring them on your mobile device if you are having your regalia shipped to your school or graduation location as proof of payment when picking up your regalia.
PICK-UP INSTRUCTIONS
Graduates can either ship their outfits to their home or pick-up at commencement fair.
Distribution Dates & Times
Wednesday, May 3rd, 2017
1:00 p.m. - 7:30 p.m.
Bookstore Lobby
Friday, May 12th, 2017
1:00 p.m. - 7:30 p.m.
Bookstore Lobby
Friday, May 19th, 2017
11:00 a.m. - 4:00 p.m.
Dana Center Lobby
Regalia will be available only during specified distribution times.
Online Pre-Orders:
Bring your Student ID to one of the distribution times and pick up your regalia.
Ship to Home Orders:
You will receive an email confirmation with a tracking number when your order ships.
Please allow 7-10 business days for delivery.
For graduates unable to place orders online:
Orders can be placed and picked up from available inventory at the distributions times.
Payment is due at time of order placement.
Avoid the wait. Place your order online!
CONTACT US
Regalia services for
Bentley University
are provided by
Balfour|University Cap & Gown Co.
If you have any questions or if we can be of any assistance, please contact us.
buildagrad@universitycapandgown.com
(978) 686-4566
To better serve you, please include your name, the institution name you are attending and a short message regarding your concern.
We will get back to you as soon as possible.
Thank you!
Continue